South Devon College, with campuses in Paignton and Torquay, celebrated the achievements of its University Centre students at a joint graduation ceremony held at Torquay's Grand Hotel.
Across four ceremonies, 207 graduates and their guests, celebrated their success.
For one family it was an extra special day. Emma, Gary and Rio Peynado all graduated together. Mum Emma with a BSC (Hons) Social and Therapeutic Interventions degree. Dad Gary with a Level 5 Learning and Skills Teacher degree and son Rio with an FdA Film and Photography foundation degree.
Emma, Rio and Gary Peynado
"It's really exciting that we have all graduated on the same day," said Emma, who decided to study for a degree after taking redundancy in lockdown "We had a celebration breakfast with our daughters."
Reflecting on the last few years dad Gary said that it was challenging at times. "It was hard working and studying at the same time and during lockdown it was difficult, learning Teams, like everyone else and everyone was at home studying on their computers. But it's been worth it, it's all paid off and we all have a bright future."
Son Rio said he decided to study at University Centre South Devon (UCSD) as he'd been at South Devon College and was keen to study close to home for his foundation degree.
Principal Laurence Frewin said at the ceremonies: "I want to say how proud I am of the incredible resilience and hard work you have all shown, your commitment to your studies and supporting your peers in what continues to be a challenging time with many pressures both academically and socially for you all to face and overcome.
These sentiments were echoed by BSc (Hons) Social and Therapeutic Interventions graduate, 23 year old Olivia Price, who gave one of the student vote of thanks. She acknowledged how the help and guidance of family, friends and university staff was invaluable.
"Finally we're here, we all wouldn't have done it without the guidance and support of those sat around us. The ray of hope you feel when you know the Higher education team is at hand to support and guide you when you need it. The wellbeing team for emotional support and sob stories we had to tell. Or the ladies who worked in the cafeteria who always had a big smile on their face. Or the people in the offices who may have helped with student finance and various forms.
But most of all thank you to all the tutors for the dedication and time you put into your lessons. To present us with top quality information for our modules. As well as challenging us with the various questions we may have asked."
Olivia Price
Olivia is now working as a counsellor in Torbay and said that her studies at University Centre South Devon opened up so many doors for her.
As well as collecting their degrees, two students were awarded prizes, by the staff at the University of Plymouth, and UCSD. The UCSD Employability Prize was awarded to Becky Hibbs. She was nominated for her dedication to others, both on and off the course, despite facing her own difficulties along the way.
Becky Hibbs receiving her award from Principal Laurence Frewin
Becky was nominated by Lisa Rogers who said Becky is an outstanding ambassador for the sector and the Working with Children and Young People programme.
"Her professionalism and desire to bring about positive change in young people and families lives sits at the heart of what she does and is clearly visible to those around her," said Lisa.
James Heseltine-Carr was awarded The University of Plymouth's Academic Partnerships prize for overcoming numerous barriers to education and not allowing this to be an excuse in regard to his attainment.
James Heseltine-Carr receiving his award from Principal Laurence Frewin
James was nominated by Ben Roper who said he'd shown significant resilience to attain a 2:1. A grade they never thought possible when he started.
"When he did find things difficult, he always engaged with support and help and was able to stay on track with his education," said Ben.
Graduates from Ceremony 1
Graduates from Ceremony 2a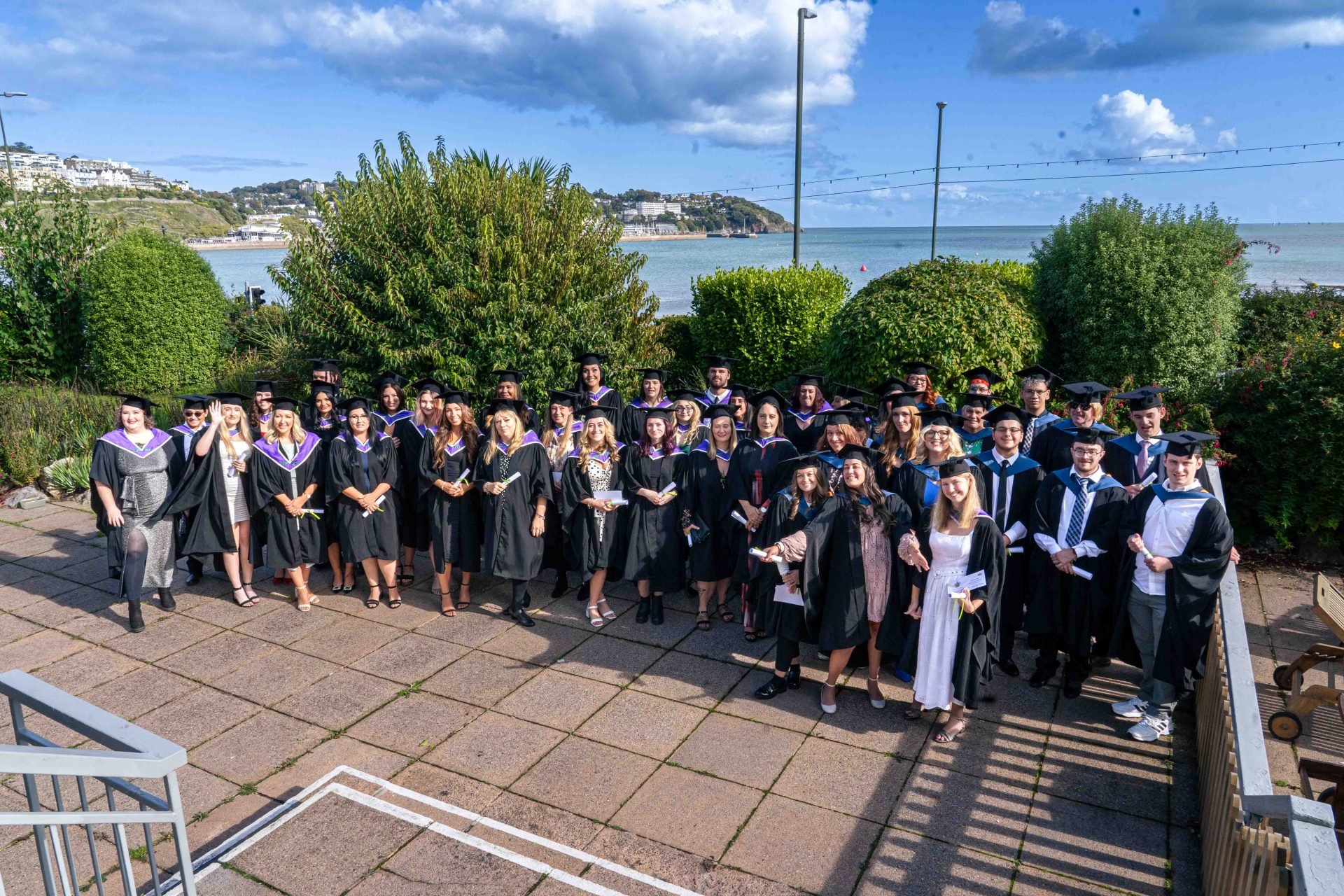 Graduates from Ceremony 2b
Graduates from Ceremony 3
Laurence Frewin acknowledged all the graduates' hard work and wished them well for their future.
"You may find your studies and experiences will take you in many different directions including some you might not even have thought about. Wherever you go, I am confident you will create a bright future for yourselves with the combination of your talent, bright ideas, hard work, enthusiasm, positive approach, and openness to new opportunities.
"We are proud that our College and dedicated University Centre, and of course our incredible staff, have enabled you to grow and have supported your ambitions so far. We are all delighted to celebrate your achievements and we wish you great future success and enjoyment."
Colin and Elizabeth Slade with Laurence Frewin
Laurence Frewin and Kevin Foster
Was this post helpful?
Let us know if you liked the post. That's the only way we can improve.